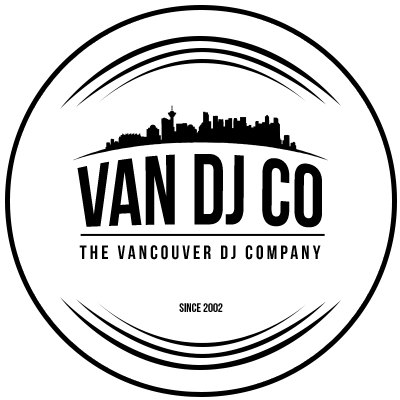 Vancouver is a world class city and is a center of prosperity for many companies.  When these companies host an event it is often more than a gathering, it's a production.  Vancouver's top companies (big and small) continue to work with Vancouver DJ Company because of its skilled DJs, knowledge and experience.
VanDJCo has extensive corporate experience with clients such as Microsoft, Industrial Light & Magic, Netflix Canada, Red Bull, DHX Media, Scanline VFX, Air Transat, Burritt Brothers, Bardel Entertainment, Piranha Games Inc., Thurber Engineering, Netgear, EA Sports, Steve Nash Fitness Club, Mr. Lube, Corona, Molson, Export A, Nike, West Beach, GLC, The Keg, Sequoia Group of Restaurants, Drambuie, Vancouver Police Department, Siegel Entertainment, District of North Vancouver, Koncept, Flowerz, Fido, Mavi Jeans, Cast and Crew Movie wrap parties, Grand Openings and more.
VanDJCo also specializes in Cast and Crew Wrap parties including Sabrina Launch Party for Netflix Canada, Diary of a Wimpy Kid I and II, I Zombie, Magicians Season I and II, Schitts Creek VIP Party, and more.
TESTIMONIALS FROM OUR PAST CLIENTS
"THANK YOU so much for last Friday. Quite a few people are saying it was our best office party and I really feel a lot of that should be credited to you. Dancing has not been a prominent feature in any of the previous parties I've been to, you definitely created an atmosphere that allowed everyone to let loose!" "Joe played for our launch party and created a great atmosphere to get people on the dance floor. He read the room really well, pulled out a couple of classics and was really friendly to all our guests. I'd highly recommend Vancouver DJ Services."- February, 2017
"I have worked with Vancouver DJ Company for 5+ years and I have nothing but good things to say – always on time, with an option to rent gear directly from them vs. a third party company. Great for all events and parties. Highly recommend!" February, 2017
"Joe, My man! I wanted to make sure I didn't forget to reach out to you directly to say thank you so much for your time, your skills and your enthusiasm during our grand opening. J. said you were the real deal and she wasn't lying!! It was great meeting you, and a pleasure working with you. Thanks again, and I look forward to needing/referring your services in the future. Best regards" November 2016
"We (a company) hired Joe for a fashion show and after party. We worked with him to come up with a specific playlist for the fashion show so we could rehearse in advance, and then requested he play anything that seemed suitable for the party portion. He was very accommodating and easy to work with for the playlist, making great suggestions and getting back to us quickly with edits and mixes. The transitions between songs were smooth and he was able to follow tempo as the models got a little off-schedule. During the party, he read the vibe of the room and crowd well. Compared to other DJs we researched, he was very affordable, so we were especially pleasantly surprised to find how easy he was to work with and how great the work was! Will use him again and would definitely recommend." March, 2017
"Joe is the BEST DJ EVER!!! So professional, always on time, he knows exactly how to set the right mood with his tunes, and he is very accommodating as far as special requests go. Not only that, but he is super friendly, polite and always happy! We will never hire another DJ – Vancouver DJ Co is our go-to for all of our events both corporate and personal. Thank you Joe!" – November, 2017
"Joe came highly recommended by our coordinator at Filosophi, and we are SO grateful he was available to DJ our wedding at the Vancouver Convention Centre! He was very accommodating when it came to our music selection (especially because my husband loves old school rock and I'm more of a 1990s-2000s rap/top 40s kind of girl…) and because of him we had such an amazing dance party at our wedding!! Joe is also very quick to respond to questions/inquiries via email, has very competitive rates in the Vancouver market, and is all around a genuinely lovely person and was so wonderful and easy to work with. We would highly recommend him for any DJ services, especially weddings!!! Thanks Joe!" – October, 2017
"Able to accommodate all kinds of requests from our wedding guests to make a memorable night for everyone! The music choices throughout the night were spot on. From the dinner music choices to the dance party, DJ JT totally understood our taste and read the room to perfection. Very easy to deal with service, professional, and fun! I'm so glad we went with VanDJCo; they asked for likes, dislikes, must plays etc, before hand and really understood what we wanted as a result. They were able to take our answers and translate that into the perfect playlist for our event!" October, 2017
"Joe is amazing!!! Before the big day, he was always very responsive to emails. He was friendly, funny, and promptly answered my millions of questions. At the wedding, he showed up ahead of time and was very stealthy while setting up. He did a great job reading the crowd and playing songs that kept everyone dancing. He was also able to accommodate song requests – even for silly songs requested by the Aussies! We received so many compliments about how much fun everyone had – something I think was highly influenced by our DJ. I would highly recommend Joe for any function and would hire him again in a heartbeat. Thanks for the best night ever!" – November, 2017
"Joe was amazing! So professional, organized and accomdating. He did such a great job keeping the atmosphere fun and our guests absolutely loved his music choices. We used his services on Canada day and he was able to connect to the firework show music from our wedding yacht, which was aeesome! We %100 definitely recommend Joe for any DJ services." – July, 2017
"I have worked with Vancouver DJ Company over the years, 10 years as a matter of fact and can say that they have been a pleasure to work with. With the variety of events we throw in the city, it's a definite competitive advantage to know their craft, to ensure that they have the right music and set to entertain our guests. They are easy to work with, and very professional. They never disappoint
"Loved working with the Vancouver DJ Company. So easy to work with and really professional. Joe was really friendly with my guests. I'll call him again for my next event and would highly recommend him for anyone." – March, 2017
"It was a pleasure to work with Vancouver DJ Company from quote to execution for our corporate reception. Joseph was very professional, accommodating and always had a friendly smile to greet our guests. We would not hesitate to work with him again or recommend him for other events in Vancouver." – February, 2017
"Thank you so much. Everything was great. The DJ (DJ G Swift) was very friendly and on time. Everyone at the party was very happy with him. Loved the lights. We will definitely keep your company information for future parties." December 2017
"We used Vancouver DJ Co for our staff event. It was a great success, really got everyone dancing. Coordination of the event was simple and professional, very easy to work with. Highly recommended for any type of reception." – November, 2016 "A big thank you for the evening, it was a great success and you really had all people up and racing! I have gotten lots of great feedback on your music." November, 2017